Our School Day and Attendance
Attendance and Absence
Every school by law has to register pupils twice a day; one mark is given in the morning at the start of the school day, and the second is given in the afternoon.
What is the difference between Authorised and Unauthorised Absences?
Authorised Absences
If a pupil is absent due to a sickness and is genuinely unable to attend school, after being informed by a parent or carer the school may authorise a child's absence. It is important that you telephone the school, or report an absence on our absences line or come in to the main office if your child is absent. Please do this before the start of the school day. You will receive a phone call and/or Class Dojo message from the school if you do not inform us as it is our duty of care to ensure your child is safe. If we cannot make contact with you the absence will be recorded as unauthorised and further safeguarding action (such as a home visit) may be taken.
If your child's attendance is below the schools minimum attendance target of 96%, we may require additional evidence such as an appointment card, a prescription, medical certificate, a prescriptive label from medication or receipt of medicine purchased.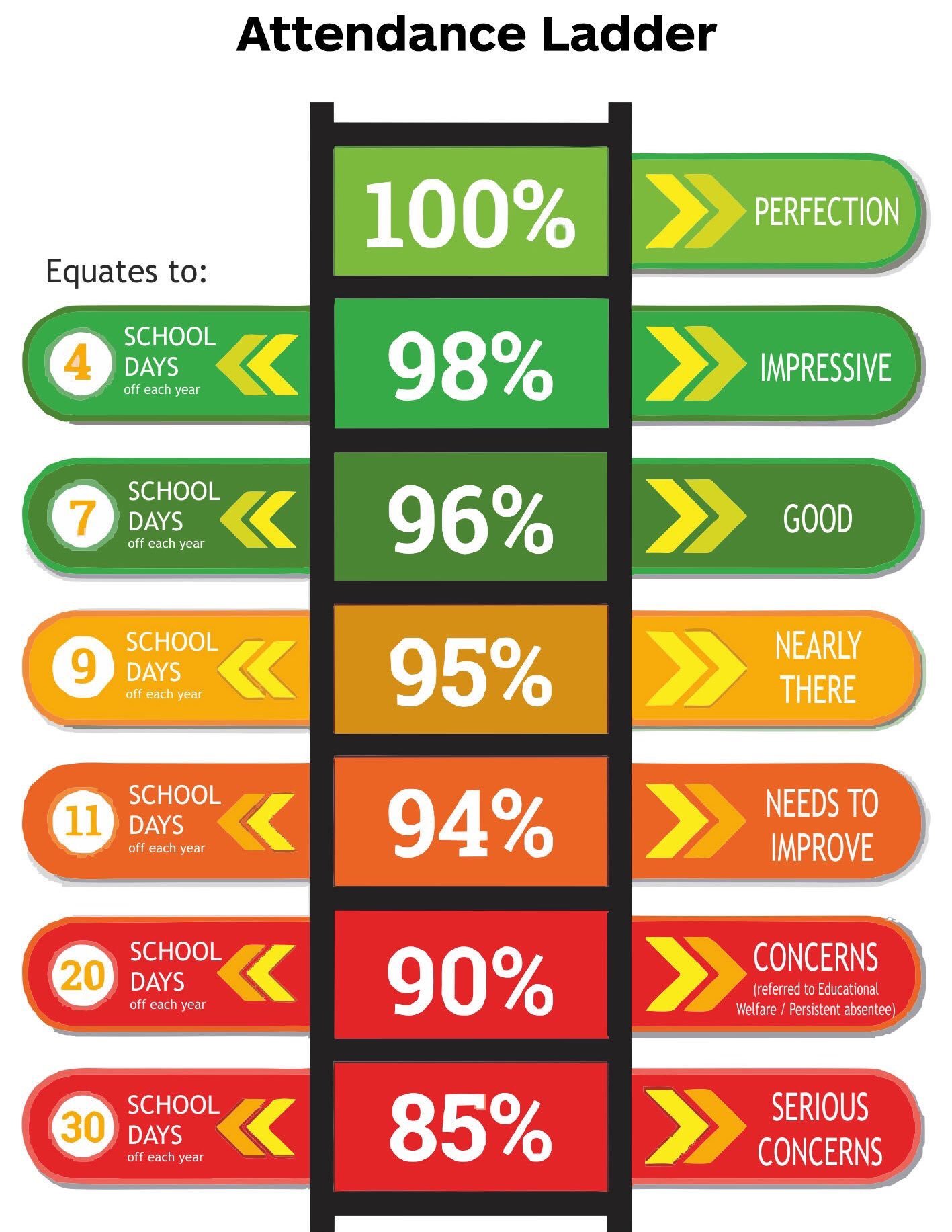 If you are unable to get medical evidence please let the school know, or we recommend you call your GP and ask them to log your call so if the need arises this can be used as evidence at a later date.
Understanding absence percentages:
You may wonder why a school would be concerned if your child's attendance is 95%. This may make it easier to understand:
95% equates to half a day off every two weeks
90% equates to a day off every two weeks
85% equates to one and a half days off every two weeks
80% equates to one whole day off every week
Unauthorised Absences
Examples of unauthorised absence may be if your child does not attend because of:
No contact from a parent or carer to give a reason for a child's absence
Going on holiday or travelling abroad
Days off for birthdays, shopping trips and other activities
Feeling tired
Bad weather
Head lice (these can be treated and return to school the same day)
Non-urgent appointments
If a parent is too ill to bring a child to school/or if a sibling is unwell
Not providing medical evidence if requested (appointment card, prescription, hospital letter, receipt of medicine)
Lateness
Lateness will also be referred to the AAP and can provide grounds for prosecution. Children must be encouraged to walk directly to school as quickly as possible in order to keep themselves safe.
Please follow this link to the Medway Council website for more information on pupil absence.
Changes to School Attendance Regulations
The Department for Education has published amendments to The Education (Pupil Registration) (England) Regulations 2006.
We have been asked to bring these changes to your attention and to enforce them.
These changes take effect from 1st September 2013 and apply to all schools in England.
The amendments make clear that Headteachers may not grant ANY leave of absence during term time unless there are exceptional circumstances. Headteachers will no longer be able to permit family holidays or extended leave.
The amendments also reduce the timescales for paying penalty notices. From 1st September 2013, each fined parent must pay £60 within 21 days or £120 within 28 days.
Please note that these changes are made by the Government's Department of Education and we have no influence or power to overrule them.
What the school can do for you.
Administer Medication
Sometimes our children have coughs and colds. They may not feel like their normal self, but they are probably well enough for school. If your child is a bit 'under the weather' we are here to make their time at school as comfortable as possible. As well as prescription medication we are also able to administer over the counter medicines and remedies. Just pop in to the office with the medication and complete a consent form and a member of staff will administer the medication as per your instructions.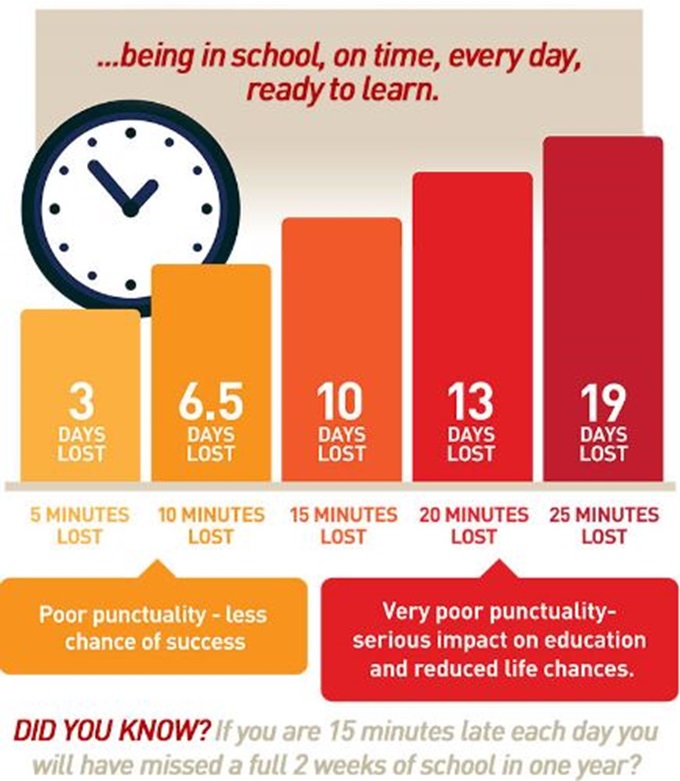 Examples of medication
Paracetamol, Ibuprofen, antibiotics, cough sweets, allergy relief, ointments and creams, nasal sprays and eye drops. If there are any other medications your child may need, please contact the office, and we will be happy to help with your enquiry.
You can find our attendance policy HERE.
Our School Day
The school gates open at 8.30am and close at 8.45am. Arrival after this time, children must be signed in via the main school office.
Foundation/Key Stage 1

The school opens at 8.30am and learning starts at 8.45am

School closes at 3.15pm.

Key Stage 2

The school opens at 8.30am and learning starts at 8.45am

School closes at 3.15pm.

Break Time

KS1 - 09.40am - 09.55am

KS2 - 10.40am - 10.55am

Lunch Time

KS1 & KS2 - 12.00pm - 1.00pm
​