Geography
Intent
At Twydall Primary School pupils will gain a strong understanding of their place in the world and their impact upon it with fieldwork and utilising our local area at the heart of this learning. Twydall pupils should aspire to become Geographers and question the world around them to guide their learning process. Children understand their responsibility towards protecting the environment and their place as global citizens and investigate ways in which they can impact both their local and wider environment. Geography is vital in our school as it provides a means of exploring, appreciating and understanding the world in which we live, how it has evolved and the evolution that is yet to come.  We explore the relationship between Earth and the people within our planet which then develops a keen curiosity and drive to find out more. At Twydall, our main aim is for our pupils to be inquisitive and take ownership in forwarding their Geographical knowledge through deeper, more critical thinking.
Implementation:
Our progressive units of work are designed to be adapted to meet the needs of our children and their own experiences. Fieldwork session are incorporated into the units of work to actively engage the children in their learning.
In EYFS children learn about the world around them starting with themselves and their home, then moving to their classroom and school environment. Children discuss the weather daily and learn about the changing seasons, through observation throughout the year. Children are exposed to contrasting localities through quality texts and are supported and encouraged to notice similarities and differences to their own local area.
In Key Stage 1 our children develop knowledge about their own locality in Twydall, the United Kingdom and the World, they use maps and globes to describe characteristics of the world we live in and develop an understanding of the compass points North, South East and West. Children learn about a contrasting locality and begin to identify similarities and differences in the human and physical features between our local area and this locality. Throughout the year children's understanding of seasonal weather patterns is advanced and expanded to a global perspective of hot and cold zones. Lessons are underpinned with questioning, hands on learning and outdoor experiences.
In Key Stage 2 children extend their knowledge beyond the local area to develop a deeper understanding of geographical features of the United Kingdom, Europe and other continents throughout the world. They begin to learn and hypothesise about changes around the world, including:
Climates around the world – how and why they differ – using enquiry skills
Physical and human aspects including: climate zones, biomes and vegetation belts, rivers, mountains, volcanoes and earthquakes, the water cycle, types of settlement and land use, economic activity including trade links, and the distribution of natural resources including energy, food, minerals and water

Justifying their opinions on the structure of their world – justifying the layout of settlements and land use, economic activity and the distribution of natural resources.
Children continue to develop their mapping skills and use fieldwork to observe, measure and record human and physical features.
Impact:
At Twydall, the children's understanding of the world is crucial for their development. This is an ongoing priority for us in order to meet both the 2014 National Curriculum statements for Geography and the needs of the pupils in order to become global, knowledgeable citizens. We ensure that the skills and knowledge required for all age groups is planned into our curriculum and is well matched for the children's ability. The skills and knowledge progression documents inform future planning and staff of the requirements needed to support our pupils by the end of each key stage. At Twydall, our pupils are spoken to regularly to hear their voice, discuss their learning and understand what is it they wish to learn and encourage deeper thinking. Regular monitoring of books and learning walks are carried out in order to capture the impact of the teaching and learning within our school.
Geographical Association
We are proud to have become part of the TiLF project run by the Geographical Association to develop critical thinking. Teachers are currently engaged in training and research into incorporating critical thinking strategies into their teaching.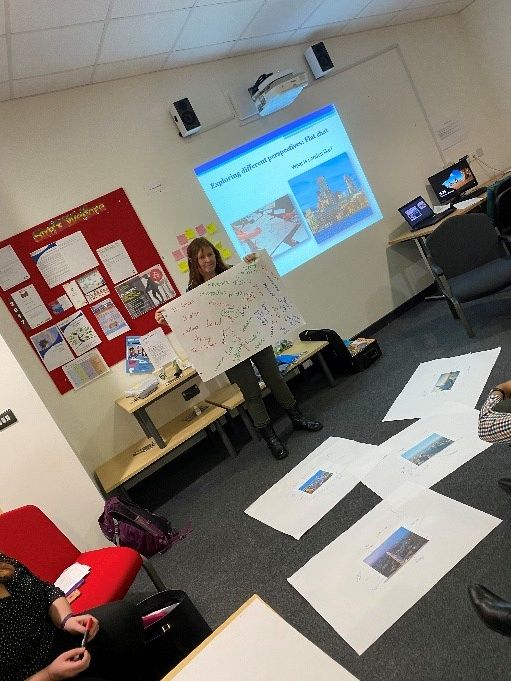 The staff have had some fabulous training from Paula Owens on developing critical thinking in lessons. This is a TiLF project delivered by the Geographical Association.
From Paula:
"It is a real joy and privilege working with Twydall. I find the enthusiasm and ethos inspiring. So thank you for being a school with such a fantastic mindset – and great hospitality".

Some of the enriching experiences we provide are:
Whole school trip to Rochester to explore the historic and geographic aspects of the local area.
Whole school trip to The Historic Dockyard Chatham to explore our local history.
Whole school trip to the Royal Engineers Museum.
Trips to Kent Life where children experience Victorian school life.
Trips to Dover Castle to experience the castle and the role the tunnels played during the war.
Children have also benefited from fascinating visits to Horton Kirby and Riverside Country Park to give first-hand experience to their learning about rivers.
Several year groups have benefited from local museums coming in to the school providing workshops, allowing the children to handle and experience a wide range of historical artefacts.
We are always looking for ways to make learning more practical and real for our children. To further develop our Geography teaching we have planned a fieldwork week in which the children will explore the local area, develop their mapping skills and have the opportunity to look in some detail at the local land use, local economy and environmental issues.