School Parliament
To increase the value of pupil voice we would to develop further the school council by creating a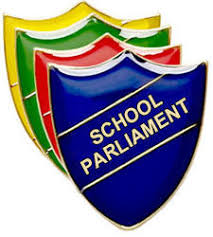 Twydall Parliament supported by sub committees.
The 3 sub-committees will have 2 representative Council members from each year group.
The committees will be:
Curriculum
Environment
Enrichment
Each of these will have weekly meetings and feed into the Parliament which will meet termly in the school Hall and be co-ordinated by The Speaker, Wendy Phillips. The Head Boy and Head Girl and the deputies as well as the House Captains will also be part of this.
The School Parliament team meet every Friday with Mrs. Logan. Last week they discussed organising the House Competitions.